Hey there, we are Bob and Rosemary…
We know Part-Time… and we hate mushrooms
It's true…
We know how to build a business Part-Time better than anyone (at least anyone we know).
Why I added the bit about hating mushrooms… it's just a fun fact.
Here's a little bit about our story and why you should care…
Our Colleagues Laughed When We Told Them Our Little Ol' Side Business
Would Let Us Retire On Our Own Terms…

They're Not Laughing Now

!
Do you see this picture below?
That was taken on October 25, 2019…
The day we cut our retirement cake and left our healthcare careers…
YEARS ahead of schedule!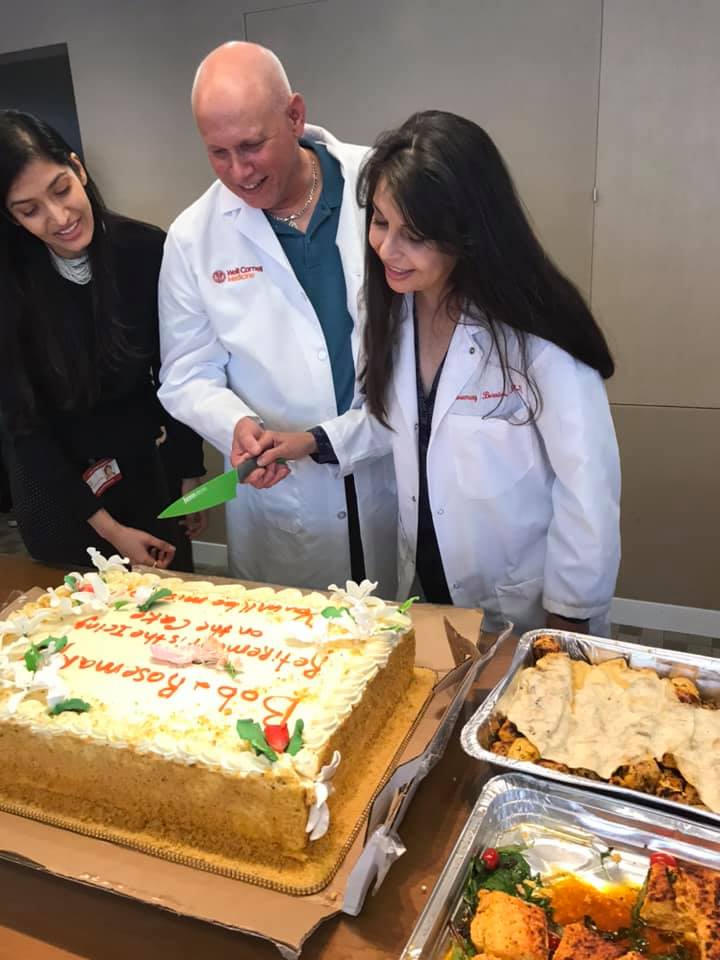 Rosemary and I loved our jobs.  We were senior embryologists at a major Infertility Laboratory in New York City and we were damn good at our jobs. 
We (our team) had a hand in over 25,000 births over our 20+ year career at our Center.
That means we helped thousands of couples start and grow their families.
It was extremely gratifying knowing we had a positive impact on the lives of others.
But then a funny thing happened…
I (Bob) got promoted to Lab Supervisor.
And as often happens, getting promoted was the beginning of the end. 
Getting promoted meant doing way less of what I loved (lab work) and more of what I didn't like so much (dealing with staff issues, interviewing new candidates, and spending more time on the phone than I did on the microscope.
The job was no longer fun.
So we started getting really serious about the side business we'd started a few years earlier.  Until then, frankly, we treated our side gig like a fun hobby.
Now it was time to get serious.
We did 2 things that propelled our side business from a hobby to a real business (where we actually made money)…
— We found and hired coaches and mentors to help us flatten the success curve (and make fewer mistakes)
— We created a Daily Method of Operation that got us results… and we stuck to it.
And because we did those 2 things, we were able to cut that retirement cake and leave our healthcare careers YEARS AHEAD OF SCHEDULE.
Along the way, we hit several milestones…
— Winning a cruise vacation as part of an MLM Recruiting Contest.
— Becoming an author and speaker at live events.
— Reaching the Top 10 of major Affiliate Contests (and even winning a couple).
— Receiving marketing awards at Company events (and making over 5 figures with our last company).
— We became course creators and Challenge leaders
— We now coach other Part-Time Entrepreneurs as they grow their own businesses
But that's not to say we didn't struggle along the way!
Our Monumental Struggles
You would think that 2 pretty smart people (I have a Ph.D. and Rosemary an MS in Reproductive Biology) would be able to have some success pretty quickly in our marketing side business.
And you'd be wrong.
Frankly, it was embarrassing.
No matter what we did, we just couldn't seem to figure out this whole MLM thing (this is where we started our entrepreneurial journey).
We did all the usual things that almost everyone does at the beginning…
We hit up our family and friends and practically begged them to use our products.
We looked for prospects everywhere we went (think the dreaded 3-foot rule).  Yeah — we were THOSE people!
Finally, we hooked up with a mentor who showed us how to use the Law of Attraction to grow our business, and that was the beginning of success for us.
We also started learning how to leverage the power of technology, which made building a business with limited time much more manageable.
But more struggles were on our path…
We started using paid ads way before we should have and paid the financial price.
Bob got stuck in professional learner mode and paid for several courses he never got around to implementing.
Our lab director found our marketing blog and ridiculed us for making fools of ourselves.
So yeah, we've paid our dues.
That's one of the reasons we created our coaching program — so we could help other Part-Timers shortcut their way to success and not make the MANY mistakes we made on our journey.
But since you may have come to this page looking for some Dirty Little Personal Secrets about us, here we go…
Personal Dirt

Bob was born in New Jersey and Rosemary in the Bronx, NY, although she spent most of her childhood in her hometown of Orocovis, Puerto Rico.  (Yes, we visit often LOL).

We LOVE to travel.  Our favorite place in the world is the Atlantis Resort in the Bahamas.  It's our "home away from home."  What a great place to unwind and decompress.

We also love going to the movies!  Yeah, we have Netflix but somehow it can't replace that feeling of watching a great movie on the big screen.  We love all kinds of movies, but especially suspense thrillers and documentaries.

Although she's from an island, Rosemary hates fish.  Bob hates sushi and they both abhor mushrooms. Go figure.

Rosemary is an avid gardener and Bob's passion is baseball.  

We have 4 kids between us, ranging from ages 29-23.  We're so proud of the adults they've become.

We were married in February of 2008.  It's the 2nd marriage for both of us.  This time we got it right! 🙂

And we're now grandparents!  We have a 4-year old grandson named Liam (that's him below) and a newborn granddaughter named Emma.  And we have another grandson on the way!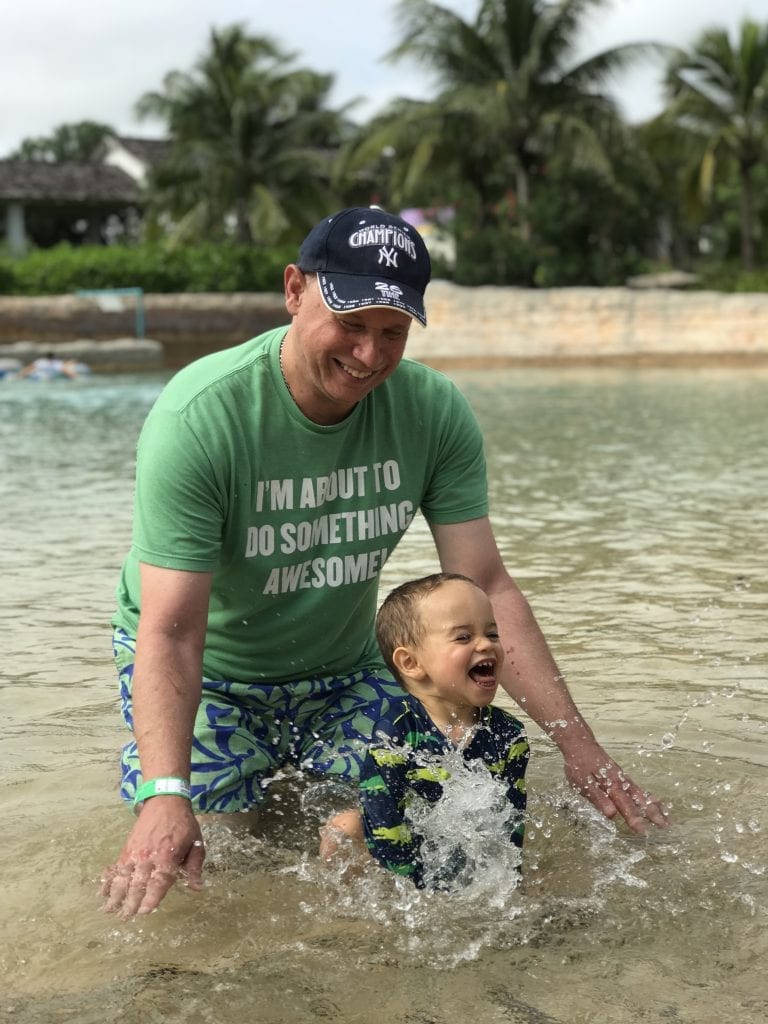 Breast Cancer Survivor
In 2008, Rosemary was diagnosed with breast cancer.  It was a wake-up call for sure!
Happily, she was diagnosed early and was able to forego chemo and radiation, although she did have 4 surgeries along the way (Rosemary tested positive for the BRCA gene).
In 2018, we celebrated Rosemary's 10-year cancer-free date and thank God for gracing us with more time together.
Our Mission  (here's the "why you should care" part)
We know how hard it can be to start and grow a home business with limited time.
Believe me, we know.
Our hope is that our training on this blog, on YouTube, and on Facebook will help you navigate your struggles building a side gig, and help you reach your goals faster than we did.
It's all about learning from those who have traveled a similar path…
And success leaves clues!
We've been through it all… the highs and the lows of building a business "on the side".
And by sharing our experiences and wisdom, we can help you jump over the many obstacles that will come your way.
We are here to help you during your struggles…
And to celebrate your WINS.
If you're here reading this, we know you are serious (or you wouldn't have read this far).
We know you can do this.
We never want you to give up on your dream.
WE BELIEVE IN YOU!
So let us help.
Additional Resources To Help You
Besides our blog, you can catch additional free training over on our private Facebook group.
We also have some courses with information that can help jumpstart your business.
The Part-Time Profit Machine, our flagship course which we feel is a must-have for anyone with a side hustle.
Part-Time Shortcuts — 4 strategies (with the detailed "how-to's") to shorten your path to success.
Part-Time Mastery — for when you need help mastering your Time.
And if you haven't already done so, please go here or click the image below to grab out Bonus Free Training, The Part-Time Profits Blueprint.