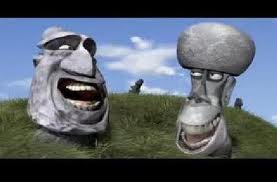 One of my blogging goals this year was to incorporate more video onto this blog.  Today is the first step towards delivering on this promise.
It's in being consistent with my 3 Words for 2o12, one being Visibility.
I don't like to do videos.  There, I said it.
Actually, let me clarify that.  
I don't  like talking heads videos, especially when it's MY HEAD! 🙂
But I do enjoy teaching and presenting, so I've decided to do many of my videos in a Powerpoint structure.
This way, you'll hear my voice, hopefully learn some valuable tips, and NOT have to stare at my face for 5 minutes.
I mean, really.
Is it just me?
Anyway, enough of my insecurities about making videos.
I was listening to a training video (yes, talking head!) by Brendon Burchard the other day and he challenged those listening to do a "5 Tips" video on anything that our heart desired.
The prize?  If chosen, 2 tickets to his next live event.
I can rarely pass up a challenge  and I really would love to get to his event, so I went for it.
And rather than post a video on something trivial like "5 Tips for Keep Your Nose From Running on a Snowy Winter Day" (although this might be helpful, who knows?), I decided to put my video to good use and present some business building tips that might just help you out.
Here's the funny thing about this video — it was originally intended to speak to Baby Boomers and Baby Boomer Professionals, but after I made it I realized that the tips in this video would help anyone trying to build an online business part time.
These tips and strategies are universal.
What You'll Learn in This Video
There are some gold nuggets in this video, if I do say so myself.
Here are some of the things you will learn:

Why most people never get their business started despite their best intentions.

The one thing you must do FIRST if you want to have any chance of succeeding as an online marketer.  Without this, nothing else matters.   (HINT):  If you're struggling with your business, this might be why!

The BIG mistake that most newbies make that should be avoided at all costs.

Why the famous 3-foot rule in traditional marketing may also be slowing you down!

The ONE thing I would do right after starting a business, if I could do it all over again (I didn't do this and it delayed my success by months, if not years!
Ok enough already…
Check out the video and let me know what you think.
 5 Essential Tips for Building an Online Business Part Time
[youtube]http://www.youtube.com/watch?v=Q5W_Q5qKFHg[/youtube]
Would you vote for it?  Should I win the trip?  
If you think so, tell Brandon!
Let's Hear It!
So what was your biggest takeaway from the video?  
How many of the tips are you doing right now?  Don't be shy!
Leave a Comment and Let's Talk!