Target Marketing — putting your product or opportunity in front of the right audience — is a key to success in selling. After all, if the people who are seeing your advertisements have no use or no interest in your product, it all adds up to one GIANT waste of money.
Target Marketing 101 Lesson One: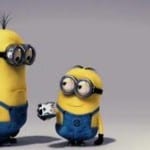 Never show previews of "The Last Exorcist" to a young crowd watching "Despicable Me." Sounds logical, but you'd be surprised how many internet and network marketers out there get this all wrong.
Next time you go to the movies, be sure to get there a little early and check out the Previews of upcoming movies. Keep in mind the movie you've come to see, and make a note of what previews the owners of the theater show you. If they're any good (and most are VERY good), you'll find that previews of the best upcoming kids movies are shown to audiences there to watch similar movies.
Here's another example of Target Marketing 101 in real life.
Next time you buy something from Amazon.com, check out what happens as you add something to your Shopping Cart. The smart guys and gals at Amazon proceed to hit you with this:
"People who bought _________________ also buy ____________________."
I mean, how smart is that?
If you're like me, I always check out what other related books others buy at Amazon, because I don't want to be left out.
"If these people are buying it, maybe I should, too" — is the conversation going on in my brain…. and it's a conversation that is being directed by the marketers at Amazon.
Brilliant.
So next time you decide to place a banner ad or target a PPC campaign, ask yourself this —
Is the person who is likely to see this going to WANT what I am offering?
If the answer is anything but a resounding YES, than you'll want to go back to the drawing board and re-think your marketing plan.
To Your Success!