For people who are struggling in MLM and looking to make more Network Marketing sales, there is usually one common question:
"

WHY are people not buying from me?"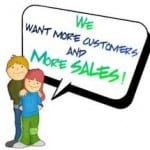 I do a lot of coaching struggling MLM professionals and almost all of them are making this same mistake — they are focusing on the sale, focusing on the numbers, and forgetting the real reason that people buy from you — TRUST.
Sales is about building relationships.
It's not about scripts.  It's not about remembering to tell your prospects every single benefit of your prospect.
In fact, it's really not about the prospect at all.  It all boils down to TRUST, and whether or not your prospect feels that you are trustworthy.
So how do you build that trust?
It's a process, but here is the best way to start:
When you contact that person for the first time,  don't pitch them, don't explain why your prospect is the next best thing since sliced bread.. that will come later.  But first and foremost….
Ask your prospect WHY they are looking to make more money, why they want to start a business, and why they filled in their contact information on your site.  Allow them to talk about themselves, and you've taken your first step towards trust.
Why?  Because most people in this industry want to skip all the way from email lead to sale, all in one step.  They aren't patient enough to actually LISTEN to why that person is looking at your business and what they want to get out of it.  And, of course you need to have the integrity and leadership to help them decide NOT to join you… if it truly is not right for them.
*********************
Build Trust.
Build the Relationship.
Ask for your PROSPECT'S WHY
And for goodness sake, LISTEN!
***********************
People don't buy what you sell… they buy WHY you sell it.  And if you are in your business to actually help others, to empower others to live a better life… if you've pushed past sales and into Leadership, you will draw people to you like bees to honey.
The vast majority of network marketing business owners have NO idea WHY they are doing what they're doing.  You can be different.
You can empower people by listening to them.  You can be the LEADER that others want to follow.
DARE TO BE DIFFERENT!
To Your Success!