Today I am going to share with you a lesson in delivering value to your customers.  It's a message that all of us in the sales and marketing arena need to heed.  It's quite possibly the key to success in our industry.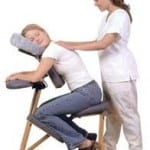 Have you ever seen those Back Massage stations at your local mall?  I don't usually pay much attention to them, but the other day I was feeling rather tense and, as I waited for Rosemary to finish her shopping, I decided…. "What the heck?"
The sign said, "$10 for 10 minutes." How can you go wrong with that, right?
As I sat in the chair, not expecting the greatest massage in the world (heck, it was in a mall!), I was pleasantly surprised when the woman providing the massage asked me where I needed her to concentrate her efforts.  I explained that my neck and shoulders were feeling really tense and sore.
She started the timer and began the massage.
Based on the feedback I provided, the masseuse proceeded to give me one of the best neck and shoulder massages I've ever received. I mean…
IT WAS INCREDIBLE!
She seemed to know exactly how much pressure to use, which muscles to work on, and when to move on.
After 10 minutes, I was again feeling tense, but now it was because my massage was almost over.  As the timer went off, the masseuse told me that she could continue another 10 minutes for another $10 if I wished.
No problem, keep going!  This woman was solving my problem, and I was loving her solution!
Another 10 minutes went by and she continued to melt away my tension and muscle soreness with her skillful touch.  Again the timer went off.
Again, I told her to continue another 10 minutes…..
This went on for an hour — 60 minutes — and I gladly forked over my $60 for her effort, plus an extra $20 for providing such excellent service.
She was happy, I was happy, everybody wins.
So what's the lesson here?
I've had massages before, and most therapists never bothered to ask what I needed, but went ahead and provided their standard massage.
This massage therapist, in her little cubicle in the middle of a busy NJ mall took the time to find out what my problems were… and then provided a solution.
Her skill level was obvious (skills are always a major part of service), but it was her enthusiasm and her genuine desire to please me and make me feel better that sold me.  I felt that she truly cared about me.
That's what we should all strive for with all of our prospects.
Find out what your prospects need…  do they need what you have to offer?
If  they do, then deliver… deliver incredible value to your customers so that they'll come away feeling like winners
Go the extra mile, give them what they need… give them MORE than what they need, and you will have a customer for life.
Until next time,